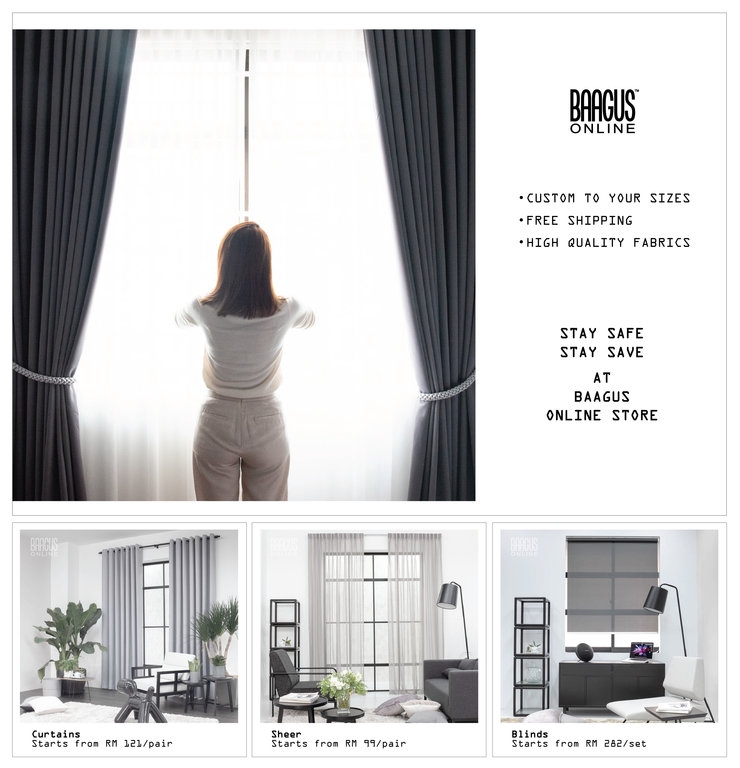 Stay SAFE.Stay SAVE!
---
BAAGUS ONLINE SALE + FREE Delivery (Deliver within 7 Days)
Visit our online store at https://bit.ly/2UeNYVN
Custom To Your Sizes

FREE Shipping

High Quality Fabrics
Stay Safe, Stay Save! Save even more now when you shop BAAGUS online.
More GREAT DEALS waiting for you to grab when you shop online:
Curtains

start from

RM 121/pair
Sheers

start from

RM 99/pair
Blinds

start from

RM 282/set
Hook & Tassel

start from

RM 19/pair
And it's easy & hassel-free to get your curtains done in just 4 simple steps:
1. Measurement
2. Product Selection
3. Add To Cart
4. Doorsteps Delivery
Shipment will be delivered within maximum 7 working days for current circumstances. Our team will inform you if there is any changes that leads to delay shipment.
Choose your fully customizable curtains now from variety of designs.
Shop now https://bit.ly/2UeNYVN
Choose quality. Choose BAAGUS.
Let BAAGUS transform your home today.